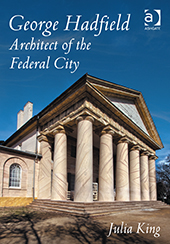 George Hadfield: Architect of the Federal City by Julia King
Publisher: Ashgate Publishing, Ltd.
September 2014; 244 x 172 mm; 282 pages; Hardback
978-1-4724-1274-4
Includes 34 colour and 35 b&w illustrations
During his lifetime, the work of architect George Hadfield (1763-1826) was highly regarded, both in England and the United States. Since his death, however, Hadfield's contributions to architecture have slowly faded from view, and few of his buildings survive. In order to reassess Hadfield's career and work, this book draws upon a wide selection of written and visual sources to reconstruct his life and legacy. After a general introduction, the book begins with an outline of Hadfield's early years and moves on to look in detail at the extant major buildings in Washington, D.C. that he worked on: the Capitol, Arlington House and Old City Hall. Hadfield's contributions to the Capitol and other Federal buildings are fully researched and assessed for the first time and Arlington House is set in context and shown to have been much more influential than has been appreciated hitherto. New material is presented on City Hall, which is another major and unjustly neglected contribution to the architecture of Washington. The complicated interlocking circles of his family and friends, his fellow architects, and his patrons and clients, including the transatlantic connections, are also explored, revealing much about the course of his career and American architecture in general. Subsequent chapters and the Catalogue explore the other projects that Hadfield was involved with, ranging from office buildings, jails, theatres, factories and banks to a mausoleum and monuments. The book ends with a reassessment of Hadfield's qualities and influence, arguing that these were greater than is often acknowledged. By offering explanations as to why his work was particularly admired by contemporaries, it is concluded that Hadfield's architectural style has been influential from his own times to the present and has been disseminated throughout the United States.